---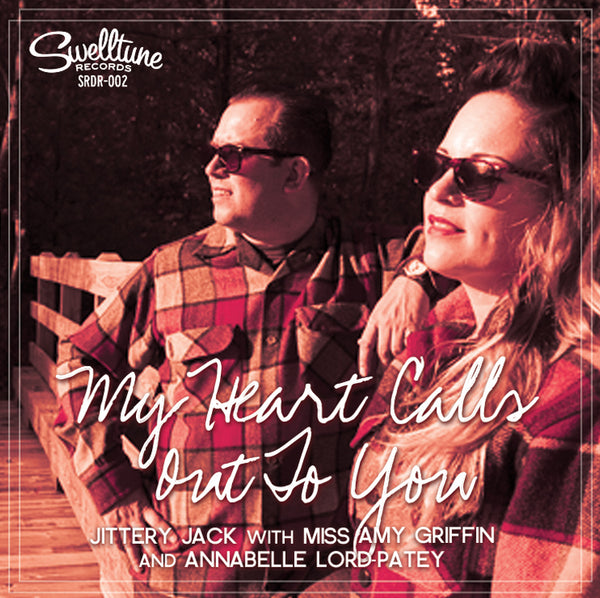 Jittery Jack with Miss Amy Griffin and Annabelle Lord-Patey - My Heart Calls Out To You - Digital Single
Regular price $0.99
JITTERY JACK WITH MISS AMY GRIFFIN AND ANNABELLE LORD-PATEY  -
MY HEART CALLS OUT TO YOU
ARTIST: Jittery Jack with Miss Amy Griffin and Annabelle Lord-Patey
SONG TITLE: My Heart Calls Out To You
FORMAT: Digital Download
LABEL: Swelltune Records - SRDR-002
RELEASE DATE: 2018
FILE UNDER:  a slow dancing, hold your sweetheart tightly, tune.
TRACK LISTING:
• My Heart Calls Out To You •
(song written by Eric Stevenson)
"Many moons ago my good pal Kevin Stevenson from Lowell, MA introduced me to his brother Eric who had been in the legendary band Only Living Witness. Eric was putting together a mellower project called "Hank Crane," and needed a guitar player.  I did a few rehearsals for Eric's new project and was blown away by the fantastic songs he was writing. I stepped down as guitar player as I really felt they needed a better approach than I could give (I'm no Miss Amy on the electric lead guitar.)  
The songs came out but sadly Eric passed away shortly thereafter.  
One song in particular always stuck with me...  "My Heart Calls Out To You" had this sort of hauntingly beautiful Everly Brothers meets Chris Isaak vibe.  I loved it and thought one day I'd like to cover it.  Well gang, that day is here and I couldn't be happier with the way it came out!  Additionally, I'm joined by my amazing and talented daughter Annabelle on vocals so it's a song I will always treasure. This one's for you Eric, I hope you dig it!"
- Kevin Patey, AKA Jittery Jack
This is a digital download! Once purchased, you'll receive an email containing your download.
Here's Jittery Jack talking about the song...